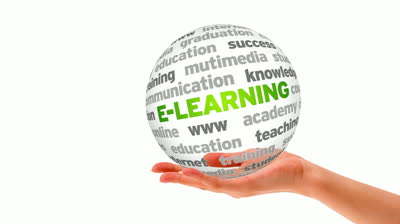 E-learning refers to all forms of technology-based education that facilitates students in learning process. The advents of modern technology have provided the masses an easy and free access to quality education. Now, every student can acquire knowledge with just a computer and internet connection. The technology has made it possible for students and professionals to gain information in a time-paced manner.
The integration of cloud systems in education has provided a new dimension to e-learning. Now, students can synchronize with each other through various cloud-based systems. By availing these resources, students can easily organize, manage and share knowledge across a series of network.
E-learning has many different forms, depending on the setting in which learning takes place.
1.    Prezi: Prezi is a cloud-based presentation tool which integrates ZUI (Zooming User Interface) to present slides. It is a popular e-learning tool and has a phenomenal following among educators and students. The users can create interactive slides that viewers can navigate through and view with various panning options. Prezi offers visual elements in slides that users can zoom in and out for clarity and definition. The tool provides edutainment approach to learning.
2.    Camtasia Studio: Camtasia Studio is a screen capture tool used by teachers and students to demonstrate a process. Camtasia Studio can come in handy for creating a training videos or audio recordings for a presentation. The tool can also be used to edit and modify a video presentation. For example, students can use this tool to create educational videos with a voiceover in background or modify a slide by integrating graphic elements into it.
3.    Google Hangouts: Google Hangouts is an exclusive video-conferencing tool by Google Plus. The application allows multiple participants to chat in real-time through a video call. Google Hangouts is a handy tool for students who can use it to communicate on a project. It also enables YouTube integration so students can watch and share educational videos during a live call.
4.    TED Talks: TED talks is a video website of TED that offers talks by renowned thinkers and philosophers around the world. The website features video conferences of famous personalities who give insights into three major areas: technology, design and entertainment. The website is a rapidly growing global platform since its inception in 2007. Students can get access to this website to get some really thoughtful opinions and viewpoints of industry experts that include technologists, media personalities and artists.
5.    Google Scholar: Google Scholar is a search engine that provides access to scholarly materials, such as books, articles and theses. The tool gives access to 'full-text' of scholarly documents in range of disciplines and citation styles. Google Scholar ranks scholarly documents in terms of their relevance with search query, author's ranking and the number of frequency of citations. It is currently among the most evolving tool for online learning.